PORTFOLIO
---
Park Avenue of Wayzata
Website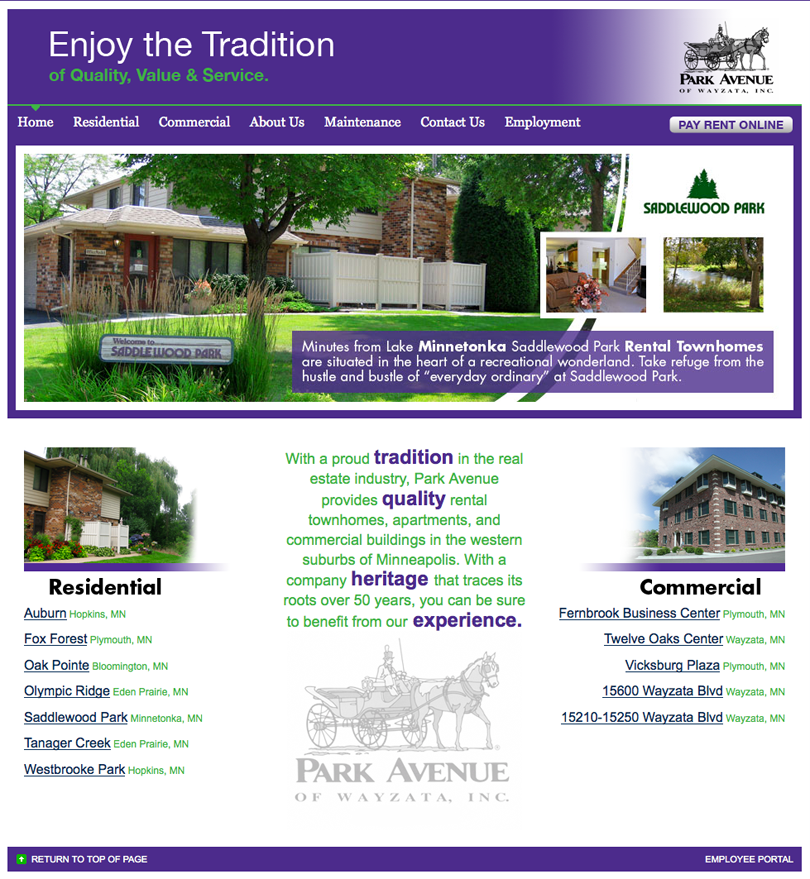 http://ParkAvenueOfWayzata.com
The Minnesota based Property Management company Park Ave of Wayzata came to us to redesign their current site. Their site was not modern or easy to navigate and did not accurately represent how their company had grown their brand's image. The site was static in such a way that could not easily improve or make changes to it. They also didn't have any social or search engine presence on the web. Within a period of only a few weeks we delivered a modern design that could easily be changed as well as a site that is Search Engine Optimized. Park Avenue of Wayzata now has a presence on all the major social network sites.
Design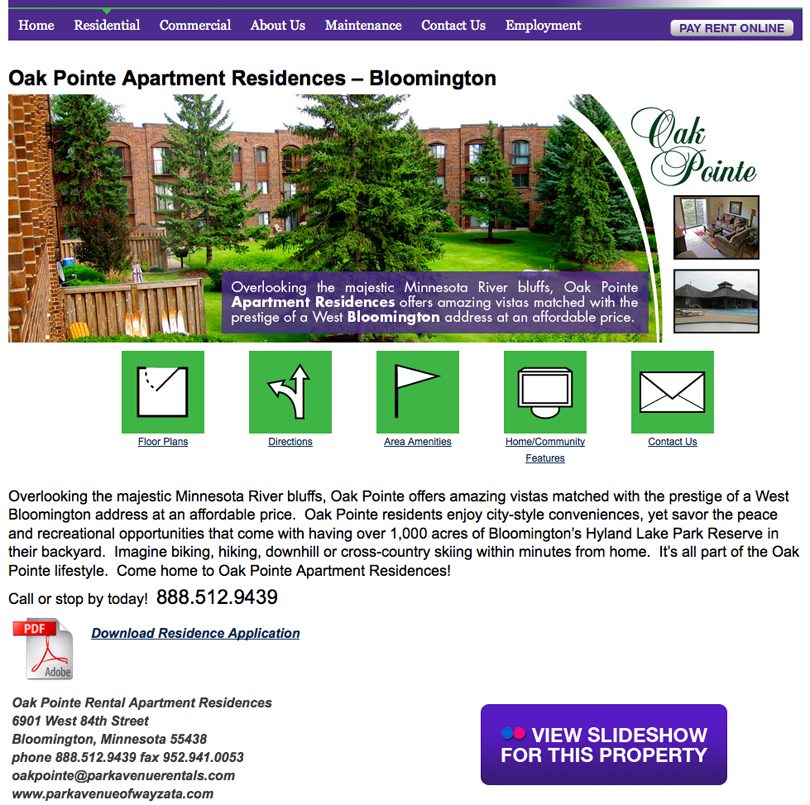 The first step to redesigning their site was to accurately represent their brand on the web. We started by building the new design around their logo. The new design incorporates softer colors and modern fonts. This content is presented in a manner that flows easily and the high quality pictures and layout convey the tradition and quality their brand represents. The pages scale easily, and are easy to read on monitors of all sizes
Wordpress
The site's Content Management System is based upon the award winning WordPress software. WordPress is built to allow Park Ave of Wayzata to change to their website themselves and add new features as they grow easily. Within WordPress they can add, edit, and delete pages, property information, maps, galleries, amenities, floor plans and contact information. They can also view reports on the website visitors and keep copies of any requests visitors make on the website in regards to their properties.
Search Engine Optimization
WordPress comes with several built in Search Optimization tools, including the ability to use the .htaccess file to create apparently static URLs called permalinks, as well as blogrolling, and pinging. WordPress also give you the ability to manage Search Engine Meta tags such as Title, description, keywords. Two weeks after we have launched Park Avenue of Wayzata's site, almost 300 pages have appeared in Google.
Social Media Presence
Every property on the Park Avenue of Wayzata main site includes an Image Gallery that is hosted on Flickr.com, one of most popular photo sharing communities on the web. Each property has a Facebook Fan Page and Twitter Account. All of these features help each page in the Park Avenue of Wayzata website to grow naturally online making it easier for potential customers to find information about a specific properties while helping existing clients have pride in their community.